Massachusetts Governor Maura Healey has applauded the efforts of Boston College Law School's Civil Rights Clinic and the Brazilian Worker Center (BWC) for their first-of-a-kind report, "Making it Work for Workers: A Study on the Efficacy of the Massachusetts Domestic Workers Bill of Rights." The groundbreaking report was released on January 12.
"Domestic workers provide essential services to many families and individuals in Massachusetts, and they have rights and protections under the law," said Healey, who as attorney general endorsed the groups' initiative. "Thank you to our exceptional partners at the Brazilian Worker Center and the Boston College Law School Civil Rights Clinic for writing a report that highlights these important laws. I am proud of the efforts by the Attorney General's Office to advocate for domestic workers, take action against efforts to exploit their work, and ensure they are being paid the wages they are owed."
The Massachusetts Domestic Workers Bill of Rights (DWBR or "the Bill") was enacted in 2015 and guaranteed new labor protections to qualifying domestic workers including the right to a written contract in a language they understand, overtime pay, breaks and time off, unpaid parental leave, and other protections.
In the nearly eight years since the law was enacted, it has been largely unclear how effective the law has been in actually providing these vital protections to domestic workers.
Massachusetts State Senator Lydia Edwards endorsed the effort to find out. "We must not rest until the promise of the Domestic Workers Bill of Rights is realized, which will require all levels of government and elected officials to work hand-in-hand with worker centers to implement the important recommendations from this report," she said.
To answer the question, the report released today surveyed four stakeholder groups: domestic workers, employers of domestic workers, government agencies, and worker centers.
Survey results highlighted significant non-compliance with the law and two major obstacles that hinder the efficacy of it: a lack of knowledge about the bill and a lack of resources to properly enforce it.
Key findings of the report showed that over 75 percent of domestic workers and nearly half of employers who responded to the survey had little to no knowledge of the bill. Over 90 percent of the workers reported working for 16 hours or more at their primary place of employment, triggering the duty for an employer to provide them with a contract, and yet just over 1 in 10 respondents had received a written contract from their employer or the right to take eight weeks of unpaid maternity leave as the law requires.
Forty-three percent of employers who hired a domestic worker for 16 or more hours per week reported not providing their worker with a written contract. For workers who were aware that their rights had been violated, nearly 50 percent said that they did not report it because they did not understand the process for doing so, and roughly a quarter stated they feared retaliation like job loss or immigration consequences.
Another obstacle is that, of employers whose workers did more than 40 hours per week, one-third did not pay them an overtime rate for hours worked over 40 as required by the law. Finally, worker centers lack funding to regularly provide education to domestic workers about their rights and assist them with filings complaints with the Massachusetts Attorney General's Office and the US Department of Labor.
"BWC has tirelessly worked to help support domestic workers throughout Massachusetts and the DWBR was the culmination of years of organizing to enshrine new labor protections into law," said Lenita Reason, the BWC's executive director, said. "Domestic workers deserve to feel safe and dignified at work, just like workers in all other industries, and this report is another step in achieving that reality. The report shows that large gaps exist in knowledge about the law, which hampers its enforcement. We need more education and resources for worker centers in order to fully realize the promise of the law."
"Our report makes important recommendations to address the challenges in identifying employers of domestic workers and the lack of resources provided to worker centers."

Lloyd Hancock '24, BC Law Civil Rights Clinic student attorney
The report highlights recommendations that will help close the gap between the promise of the DWBR and the reality on the ground for domestic workers.
Among the recommendations are identifying employers of domestic workers through a state tax filing question to be used for targeted outreach and education efforts by the AG's office. The report also suggests increasing public service campaigns on public transportation routes to increase educational outreach to domestic workers about their rights and how to enforce them. Amending laws to allow worker centers to share fines from the attorney general office's enforcement was identified as another way to recognize the centers' role in that enforcement.
Other recommendations are to expand the AG's hotline hours to evenings and weekends, and to increase collaboration among government agencies, lawmakers, and worker centers to spread awareness of the law.
Domestic workers view the report as an essential step toward enforcing the rights promised in the bill. "The DWBR gave us more opportunity and a voice to demand good conditions and prioritized our human rights as a domestic worker," said Erika Souza, a BWC member. "But there are many domestic workers who don't know about the law and unfortunately many employers ignore it. We need more financial support and human resources to educate as many domestic workers as possible about our rights and the law."
Lloyd Hancock, a student attorney in the Civil Rights Clinic, believes BC Law's work will go a long way towards that goal. "Our report makes important recommendations to address the challenges in identifying employers of domestic workers and the lack of resources provided to worker centers, who play a vital role in assisting government agencies with enforcement of domestic worker labor rights," he said.
"Domestic workers, like other workers, are entitled to proper wages and working conditions and are protected against retaliation by their employers," added District Director Carlos Matos of the US Department of Labor's Wage and Hour Division in Boston. "We at the Wage and Hour Division take seriously any efforts to shortchange or intimidate workers and continue to work with the Attorney General's Office, the Brazilian Worker Center, and other stakeholders to achieve our common goals of protecting and ensuring workers' rights."
The BC Law Civil Rights Clinic, under the directorship of supervising attorney Reena Parikh, is part of the Boston College Legal Services Lab, a fully functioning law firm within BC Law that provides legal services in the community to clients with a variety of legal issues.
The Brazilian Worker Center is women-led, Boston-based, and focused on advocating for immigrants' labor rights.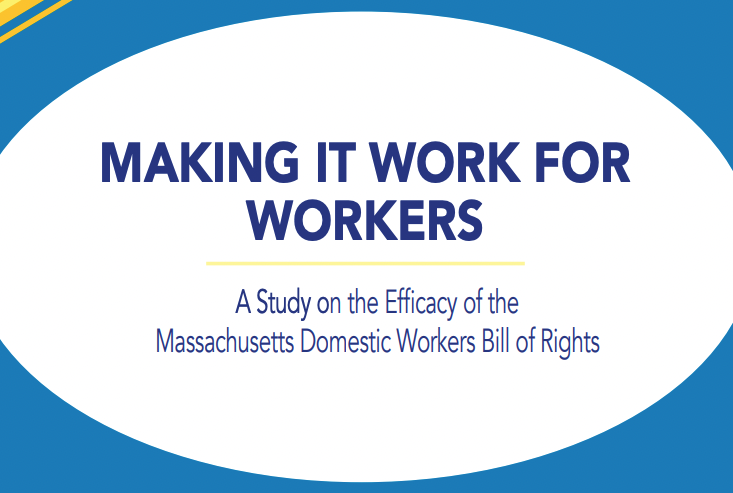 Related content:
https://www.nbcboston.com/news/local/many-mass-domestic-workers-dont-know-new-law-offers-protections-survey/2944524/
https://www.wgbh.org/news/local-news/2023/01/12/most-domestic-workers-in-massachusetts-dont-know-theres-a-law-protecting-them
https://www.wbur.org/news/2023/01/13/massachusetts-domestic-workers-law-awareness-gap-report
https://www.bizjournals.com/boston/news/2023/01/19/editorial-stop-the-exploitation-of-domestic-worke.html
https://darik.news/massachusetts/large-awareness-gap-hampers-domestic-workers-law/835510.html