As a kid, Charity Clark '05 bagged groceries and worked the cash register weekends and during school vacations at her family's grocery store in Londonderry, Vermont—a job that isn't to be underestimated when retracing the path of her recent rise to attorney general, the first woman elected to the post in the Green Mountain State.
"A grocery store in a small town with no stoplight is a really important part of the community," Clark says. "People rely on you for everything, and it gives you an incredible insight into humanity. You see what food they're eating, what toiletries they're buying. Alcoholics buy beer first thing in the morning; an older couple would arrive and give you their list and we would do the shopping for them. It creates a sense of compassion and responsibility to a community. Just to be a part of that and see folks like that had a big impact on me."
Fast forward to 2014, when Clark began an eight-year stint as assistant attorney general and, later, chief of staff before winning election in 2022 to head the Office of the Vermont Attorney General. As top counsel of the second least populated state in the US, she oversees a staff of about 150 with responsibilities over consumer, civil, and criminal casework. She carries her respect for community with her. "As a citizen in a small town, you've got to pitch in and help out," she says. "As a lawyer, you think about problem-solving. Where are the problems and how do we collectively find a solution?"
Whether acting as citizen or attorney, Clark, forty-seven, who shares custody of an eight-year-old daughter with her former husband, simply isn't wired to seek free time. As a former president of the Junior League of Champlain Valley, her group's efforts influenced the state legislature to fund a diaper bank distribution program. After Hurricane Irene's destructive floodwaters of 2011, the Preservation Trust of Vermont followed her suggestion to set up a fund for bridges and other imperiled historic structures. Clark's volunteer functions include justice of the peace and chair of the board of the library in her town of Williston, and her Instagram account (@charityforvt) offers scam tips alerting consumers to illegal activities, from fake lotteries to purloined pictures of puppies that aren't for sale despite online claims. Last but not least, the consummate hiker completed the state's 272-mile Long Trail in 2021.
"In class, Charity kept her eye on the ball. She wasn't seduced by theory. Her concerns were 'How does this affect real people? How does this play out in real life?' I'm not surprised she ended up in this role. She's going to do great."

BC Law classmate Alisha Carlile '05
Clark's knack for solving real-world dilemmas was honed as a University of Vermont undergraduate, at law school at Boston College, and during two stints with prestigious firms—Downs Rachlin Martin in Burlington and Orrick, Herrington & Sutcliffe in New York City.
During her campaign for attorney general, she caught the attention of colleagues, role models, and mentors. Notably, former governors Madeleine Kunin—Vermont's first and so far only woman governor, whom she's admired since childhood—and Howard Dean, for whom Clark worked as a policy analyst before his unsuccessful bid for US president in 2004, officially endorsed her. When Clark made the visit to Kunin's home to request support over tea, she brought along her copy of Kunin's Living a Political Life. They shared a chuckle over the note Kunin had written to Clark in the flyleaf of the book when they met at a parade marking the 75th anniversary of women's suffrage in August 1995 (Clark had purposely carried the book with her to the event to obtain Kunin's signature.)
There's more. The governors' vote of confidence lent another layer of historic gravitas to her candidacy: Clark is a descendant of Thomas Chittenden, who in 1778 became Vermont's first governor.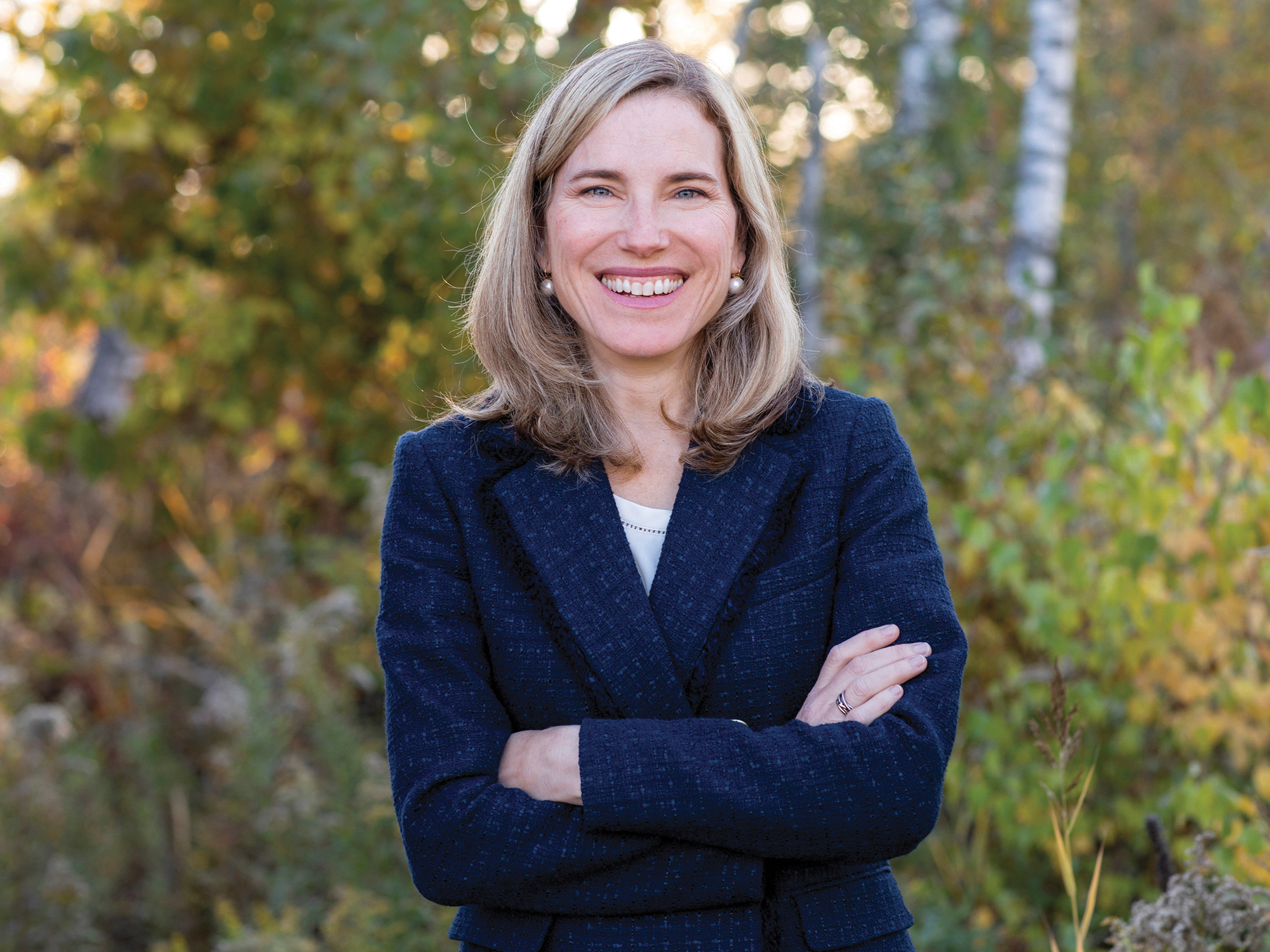 Not all of Clark's lessons were learned stateside. As a law student she studied at The Hague under Hon. Phillip Weiner '80, who set up an internship program there. "Charity was a pleasure to have working with us," Weiner says. "She loves Vermont and told everyone that she planned to use the skills she gained for Vermont. She also loved working in the Hague because everything there was innovative and that's what she was looking for."
Classmates echo Weiner's sentiment about Clark. Alisha Carlile '05, deputy attorney general for the California Department of Justice, flew with her eight-year-old daughter to campaign in Vermont the weekend before last fall's election.
"In class, Charity kept her eye on the ball," Carlile recalls. "She wasn't seduced by theory. Her concerns were 'How does this affect real people? How does this play out in real life?' I'm not surprised she ended up in this role. She's going to do great."
Claire Donohue '05, assistant clinical professor at BC Law, issues an endorsement of her classmate. "Charity is the right person for the job because she's loyal and committed but she's not going to suffer fools gladly," Donohue says. "She's not afraid to hold a mirror up to herself and various agencies and entities in the state over which she'll be in control. That's what I think of when I think of her. She doesn't confuse loyalty or zealous advocacy with drinking the Kool-Aid of whoever she works with and for."
According to Donohue, Clark's sense of responsibility to her family and community remains grounded in those youthful market years. "I'd be curious to finally know if she's allowing other people to pack her groceries," she says with a laugh.
The answer?
"Definitely not!" Clark says. "I taught my daughter how to bag groceries. She helps me. We do it together."