Student Snapshot
Siblings Fiona Negron and Charlie Davis, though two years apart in age, ended up as classmates at BC Law. We tested how well they know each other.
Charlie's Favorite Movie (according to Fiona): Star Wars (Actual answer: Star Wars: Episode III—Revenge of the Sith). Fiona's Favorite Movie (according to Charlie): The Downton Abbey movie. (Actual answer: The Godfather). First Website Charlie Visits in the Morning: The Survivor subreddit (Surprisingly, correct!). First Website Fiona Visits in the Morning: Instagram (Correct!) Who Spends More Time in the Library: Charlie (but Fiona spent more time in the library in undergrad!) Who Is the Funnier Sibling?: They agree that Charlie can make anyone laugh, but anyone can laugh at Fiona. Fiona's Spirit Animal: A seahorse, or a horse horse (Actual answer: Border Collie). Charlie's Spirit Animal: Golden Retriever (Actual answer: A bird-of-prey, like an eagle. Fiona: "But we're already both eagles, so maybe a peregrine falcon.")
---
Fiona: When I was researching law schools, BC stood out for how important and great the community is. I know that's kind of a cliche, but everyone is so nice and collaborative, and those values drew me here. When Charlie was also accepted, I was like, "We've done this before."
Charlie: We both went to Harvard, studied government, and ran cross-country and track there—go figure. We have gone to school together our whole lives, studying similar things. Fiona has always been a trailblazer, and I looked up to her. I still remember when I went into seventh grade and our English teacher learned that Fiona was my older sister, and she said, "Oh, boy, those are some big shoes to fill."
Fiona: I'm interested in space and international law and am currently pursuing a dual degree at Tufts' Fletcher School of International Affairs. My interest probably goes back to having an aunt who worked for NASA. My mom is one of ten kids—we have a LOT of aunts and uncles and cousins—and one's an aerospace engineer, another is a helicopter pilot; there are a handful of naval pilots. We were surrounded by technology and aviation, so my interest came with the territory. The intersection of private sector innovation with public sector interests in space is fascinating to me, and I love to solve problems that do not necessarily have a set answer yet. That's what space is… it's still the final frontier, literally and legally.
Charlie: I always wanted to become a lawyer. My hope is to work in corporate law, preferably tech, but I can't wait to get out into the world of law, learn about more practice areas, and see what calls to me. I worked at an immigration law firm before coming to BC and fell in love with being able to work with clients from diverse countries and industries. So many of our clients had big, new ideas and were trying to grow them into something successful and innovative. To stand alongside those people and help them from a legal standpoint would be incredible.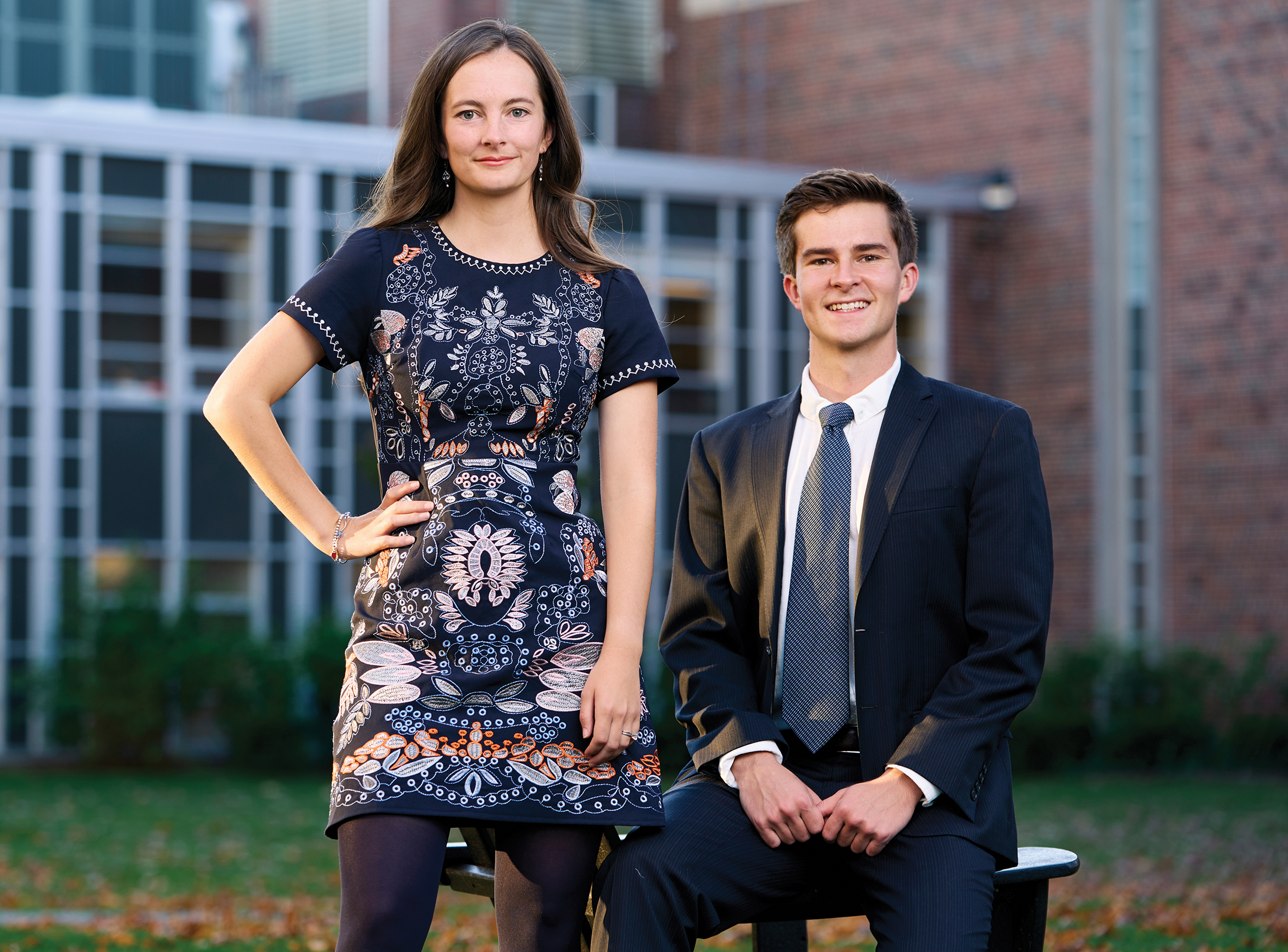 "We both went to Harvard, studied government, and ran cross-country and track there—go figure. We have gone to school together our whole lives, studying similar things."

Charlie Davis '24, referring to his older sister Fiona Negron '24