Diane Ring served as interim dean from June 2021 to mid January 2023. She was succeeded by Odette Lienau, who joined BC Law in January as the inaugural Marianne D. Short, Esq., Dean. During the transition period last fall, the two women became well acquainted as they prepared for the change in leadership. Theirs was a meeting of the minds, of learning, listening, and laying the groundwork for the Law School's new era. This interview is an opportunity to hear some of their formational conversation.
Both of you are "firsts" as women in the dean's role at BC Law. How is women's leadership important to BC Law and the legal profession?
Diane Ring: One reason is its impact within the law school community. Half of our potential leadership pool is women, and having students see women in senior leadership at their own institution takes the abstract idea of women able to play any role and makes it much more concrete.
Women in BC Law leadership is also significant for the profession. When current leaders of major law schools such as BC Law are women, that raises the profile of women immediately in the profession. In the longer term, it is preparing the next generation to be able to step up to those roles.
Odette Lienau: BC Law's mission is to encourage people to excel wherever the world needs them and to serve in some way, including through an educational mission. This mission, this hope applies to everyone—there should not be any barriers. So, it's a real honor to follow Diane and, like her, to serve as a role model for women, for students thinking about the myriad ways in which they might be able to serve.
I also hope that my experience and background as a woman of color brings a useful perspective to the institution. I'm keen to listen to a broad variety of views, having come from a background or a group whose views historically were not listened to. Maybe that makes me a little more attuned to the issues of diversity, equity, inclusion, and belonging that are so central to making institutions healthy.
This is equally true in the legal profession and in the world at large. Just look at the brutal crackdowns of protests in Iran. Our presence, our voice, is important, just as important as ever, more so than ever.
Dean Ring, how will having served as interim dean impact your work in the future?
DR: There are many direct ways in which it will likely impact my role as a teacher and member of this community. But perhaps a more surprising impact is one that I can see on my future work as a scholar. The role of dean, including interim dean, if done effectively, requires you to engage in a broad array of critical operations, functions, and decision-making moments.
I can see this influencing my research work in taxation: An important part of evaluating and designing regulatory systems—including the tax system—is studying a variety of legal frameworks and regimes and appreciating how they work in practice and what pressure points they are likely to create. Having spent eighteen months in an executive role with oversight for so many functions provided me with another lens for thinking about the implications of specific new tax regimes both domestically and globally—and the possible effects for countries, markets, businesses, and taxpayers, depending on their circumstances.
Dean Lienau, you often speak of the importance of a globally interconnected world. How will being dean of BC Law help you address that concern?
OL: I was attracted to Boston College Law School because of its universalist ethic—a commitment to service at multiple levels—and this broad viewpoint was incredibly valuable to me. I want to deepen that commitment, in part so we can educate future generations of lawyers with knowledge of this interconnectedness, and with a global citizenship perspective that is going to be important not only for their profession and careers, but also for the world.
This means strengthening our educational, policy, and service programs, our connections with other universities, our public interest placements, and considering the role that all of this plays in the curriculum. It could also include a greater international dimension in our student body.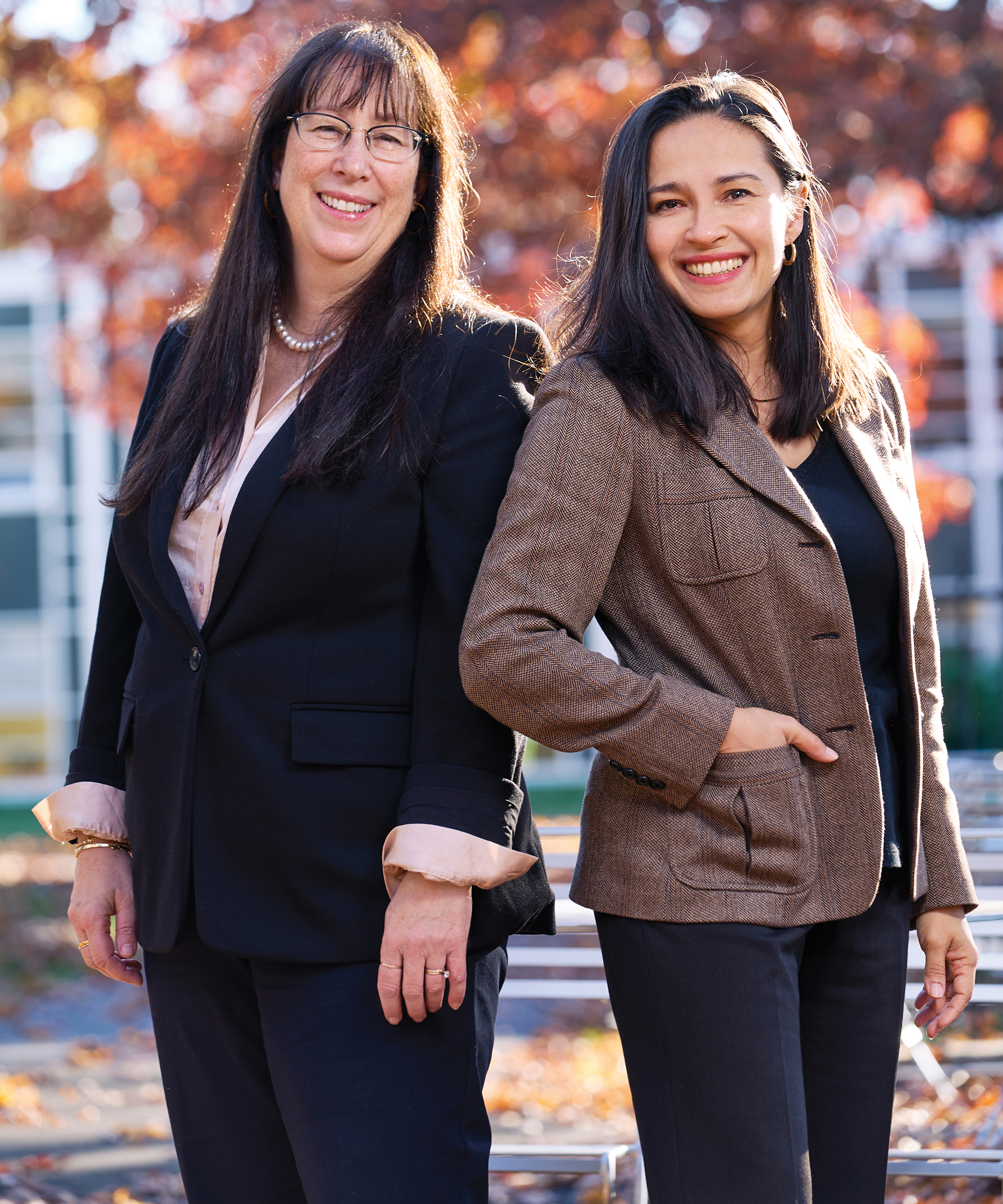 Dean Ring, what are you most proud of having achieved?
DR: The first thing I'd say is that the entire law school community is so excited about Odette's arrival. We've been working hard over the past eighteen months and I'm really proud of all that the Law School has accomplished across a wide array of topics, from impressive faculty hiring and classroom and facilities renovations, to increased investments in summer public interest jobs, diversity, equity, and inclusion, and faculty research following the peaks of Covid.
Speaking of Covid, as a community, we were thoughtfully but also strategically trying to bring everyone back to campus while simultaneously trying to reignite the immensely important in-person aspects of learning at law school—that's part of BC law, its kindness. We've also been energized by our reduction in class size and then by the impressive quality and diversity of our student body. The Law School is in a wonderful position and ready to welcome new leadership.
OL: Can I jump in on that? I want to say how grateful I am to Diane and to the amazing transition team at the Law School. Everyone has been incredibly welcoming and supportive, so I feel as well informed as I can be about how the Law School works, its strengths and its challenges.
Dean Lienau, where do you hope BC Law will be ten years?
OL: The Law School already has a strong mission that is resonant with what the world needs and with what I think future generations of law school applicants, law school students, and law school alums need. That is a fantastic place to start. There's incredible scholarship and research being done here, deep commitment to teaching wonderful students who are bright, hardworking, and collegial, and there's a real sense of community, which is needed in a world struggling with a general sense of disarray and injustice.
I want to retain that strong foundation and commitment and then project it into the future as an even stronger school—a school with students who have the capacity to engage globally, who are ready for changes in law and technology that will impact substantive areas of law as well as career options. We also need to be ready for the demographic changes we see coming, such as the drop in class sizes and the racial and ethnic makeup of future students. We want to be able to ensure that future students feel the sense of community and belonging that past generations did.
I'm thinking of a law school in ten years that is grounded in that same mission, in that same tradition of excellence in research and teaching and collegiality and community, but that is also nimble, ready for the world that is coming and also for the world that we don't even see yet.