As colleagues will tell you, the invaluable contributions, guidance, and wisdom of professors Scott FitzGibbon, Zygmunt Plater, and Mark Spiegel will continue to shape generations of lawyers. Combined, they contributed 130 years of teaching and scholarship, touching the lives and careers of thousands. Although each took a different path to Boston College Law School, their passion for law and commitment to the students was shared. As Professor Paulo Barrozo said in remarks during the Law School's Faculty Retirement Celebration on May 30: "May we all continue to be inspired to follow [them] in this enduring search that makes us humans."
---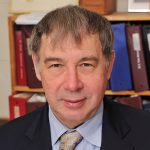 Scott FitzGibbon
After earning his JD from Harvard University and completing his studies of legal philosophy at Oxford University, FitzGibbon went on to dedicate forty-five years to BC Law, educating thousands of law students on topics including jurisprudence, corporations, securities regulation, and contracts. In his tribute to FitzGibbon, Barrozo said his colleague's "respect for his interlocutors and his curiosity and love of knowledge" made him a greatly valued and respected faculty member and professor. In addition, his unique ability to "seek knowledge for the love of knowledge, and truth, for the love of truth" encouraged his students to strive to become honorable, respectful, and intellectually curious lawyers.
---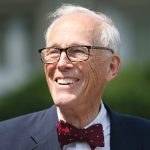 Zygmunt Plater
Plater's commitment to environmental, property, land use, and administrative law over forty-two years was undeniably inspiring. He encouraged his students to "walk the land," a charge that Rob Brennan '96 received from Plater while taking his property class, and that Brennan said during the tribute still influences his work. Throughout his career, Plater represented the endangered snail darter, farmers, Cherokee Indians, and environmentalists in the Supreme Court of the United States, federal agencies, and congressional hearings, taught on seven law faculties, and published multiple articles cited in Supreme Court opinions. Most notably, his ability to inspire students to be pioneers continues to influence the field of law. He established a popular program allowing law students to teach an environmental law class to undergraduates. For his popularity and skills, he received the Faculty Excellence Award in 2000 and was named PILF's Public Interest Law Professor of the Year in 2011.
---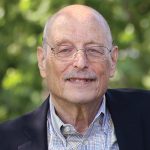 Mark Spiegel
Spiegel has long been known as an exceptional professor, colleague, mentor, and friend. Professor Paul Tremblay, a mentee of Spiegel, described him as "a pioneer in legal education." Throughout Spiegel's forty-three years, his dedication to law became evident inside and outside the classroom. He taught Civil Procedure, Federal Courts, Civil Rights Litigation, Complex Litigation, and Professional Responsibility. He also helped transform BC's Legal Assistance Bureau "into a paradigm for law school clinical programs across the country," Tremblay noted. He was a wizard as a litigator and potent as a scholar, authoring pathfinding papers on client-centered counseling and the divide between clinical and classroom work. His intelligent and straightforward demeanor—"no false pleasantries, but terrific insight about everything," Tremblay said—made Spiegel the favorite professor of countless students.