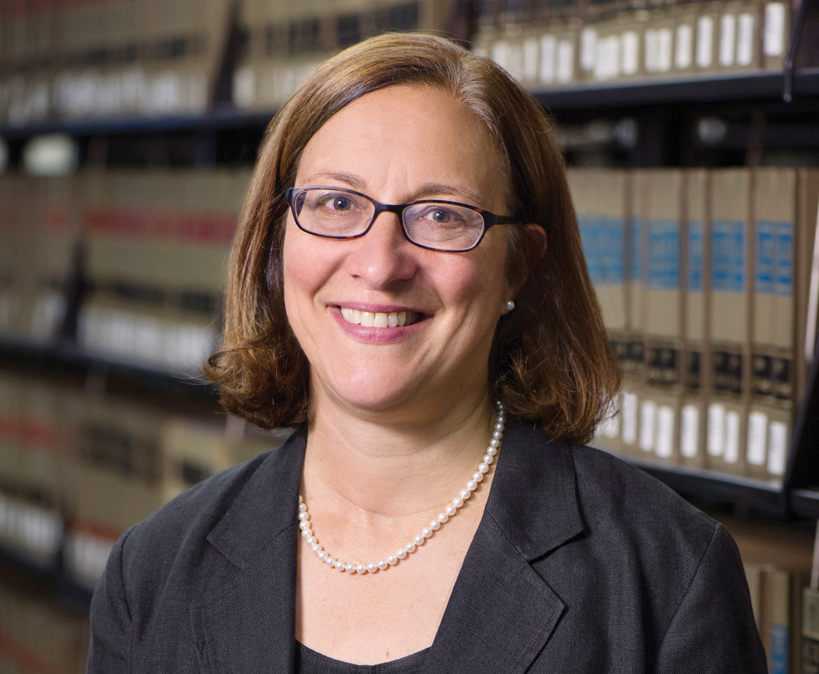 Collaborating Across the Pond: While a student in the London Program last semester, Rita Muse '15 interned at Justice, where she was tasked with creating a report for Parliament detailing why victims of "miscarriages of justice" (in American parlance, "wrongful convictions") should be compensated. When Muse, who had studied under BC Innocence Project Director Sharon Beckman (pictured), contacted the professor for guidance, Beckman connected her to Christopher Skall '16, who'd written a paper on the topic. His work enabled Muse to include in her report timely research on US exoneree compensation laws.
---
Madison Abroad: Professor Mary Bilder traveled to Oxford University this spring for a panel on "James Madison and the Constitutional Convention" held at the Rothermere American Institute as part of the Constitutional Thought and History Seminar. Colleen Sheehan (Villanova University) and George Thomas (Claremont McKenna College) were commentators on Bilder's forthcoming book, Madison's Hand, to be published by Harvard University Press in October.
---
The Peripatetic Scholar: Professor emeritus Hugh Ault was a guest speaker at the Hautes Études Appliquées du Droit (HEAD) Law School's March conference on tax planning strategies and international challenges. HEAD, located in Paris, is a branch of BC Law's Global Practice Program. Ault also was a visiting scholar at the Max Planck Institute for Tax Law and Public Finance in Munich for the month of April, and in May was a panelist at a conference on "Tax Policy beyond Patent Boxes and State Aid" in Stockholm.
---
Sharing Knowledge: Adjunct professors Kevin Curtin '88 and Hon. Christine McEvoy went to Tashkent Law School in Uzbekistan to train students in trial practice under the auspices of the State Department and SJC Justice Robert Cordy, a law reformer in the region.