Mary Daly Curtin, 1935-2015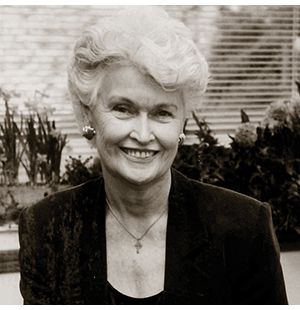 Together with her late husband, John "Jack" Curtin Jr. '57, Curtin established the John J. and Mary Daly Curtin Center for Public Interest Law at BC Law, and funded stipends that continue to enable graduates to pursue careers that benefit others.
A native of Brighton, graduate of Regis College, certified art therapist, and community activist, Curtin was beloved by many for her service to others.
"When we were young, Mom would take us with her to the Wellesley Council on Aging headquarters where we would organize meal packages for the less-fortunate elderly in town," remembered her son Joseph P. Curtin '90. "But, she never had us just drop off the meals. Mom insisted that we go into the home, put the food away, and engage in conversation to gauge if the person had other needs. If so, Mom always returned to fulfill the need."
Her legacy remains very much alive at BC Law, thanks not only to her generosity but also to her gift of family—her sons Joe and Kevin J. Curtin '88, past president of the Alumni Association, maintain their parents' close ties to the Law School.
"Mary and Jack were deeply committed to social justice," said Kevin Curtin. "This is why the creation of the Curtin Center was so important to them. They each did all they could do, for as long as they could do it, to carry the fight. They always encouraged others to contribute in any way they could. They loved especially those angels among us who have made the daily struggle for social justice the labor of their entire lives."
---
James Malley, SJ, 1921-2015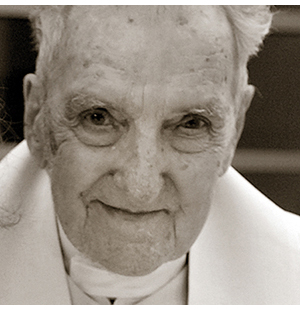 Father Malley was a graduate of Dartmouth College and Harvard Law School and a Navy veteran of WWII and the Korean War. A lawyer turned priest as a member of the Society of Jesus, he spent five years serving the poor in a São Salvodor slum—all before beginning his eighteen-year career at BC Law as a student counselor, assistant dean, and adjunct professor.
In his remarks at a service in Father Malley's honor Reunion Weekend 2015, Professor Daniel Coquillette said he was glad during his years as dean to have had Father Malley by his side. "In every crisis at the school, and we had some bad ones, I would turn to Jim," Coquillette said. "Every student, faculty member, and staff in the school was a special concern to Jim. He knew who needed help and he knew how help should come."
The words of former dean Aviam Soifer were read by Professor Judith McMorrow. Recalling Father's gift for storytelling, Soifer wrote, "Who else could have twinkled so delightfully as he told of being banned briefly from taking confessions in northern Brazil because he had learned Portuguese street language so well that he was shocking some of the older congregants with his language in the process?"
From his home in California, Professor Emeritus John Flackett also sent a tribute. "Father Jim Malley was one of the finest human beings I have ever known," he said. "Just being with him lightened my life. …He was a light of conscience to us all."