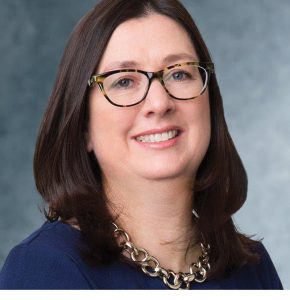 Rita O'Neill '04 loves the rush of a new deal, so it's no surprise that she's found her niche in mergers and acquisitions (M&A). "The tempo of M&A is very fast-paced and exciting. I do a lot of strategizing and client counseling," says O'Neill, a partner in the General Practice Group in the Los Angeles office of Sullivan & Cromwell, where she serves as co-head of the Global Private Equity Group.
"There's a myth that M&A is harder than other areas of law, that the lifestyle means a woman can't have a family, that you need a business background, that there's too much travel," says O'Neill, who spent her 2L summer as a summer associate with Sullivan & Cromwell and joined the firm after a clerkship in the US Court of Appeals for the First Circuit. "The M&A schedule is unpredictable. It's very intense for a short period of time, but you structure your life to deal with the ebbs and flows. With litigation, a case can go on for months or years."
O'Neill serves as vice-chair of the ABA's Women in M&A Task Force and has co-launched a separate initiative, Women in Mergers & Acquisitions (WiMA), which brings together senior women dealmakers in law, investment banking, and private equity. "Through my involvement in WiMA, I'm collaborating with women leaders across the country to build a dynamic professional network, raise diversity awareness, and promote and retain women in the field of M&A," she says.
WiMA has chapters in Chicago, San Francisco, and New York and plans to expand. Each hosts two annual dinners for women invited to join the group and one to which each member brings a rising star. "We identify women who are leaders in M&A," explains O'Neill, who notes that "it's driven toward business generation."