Pocket Résumé
James Dowden '00: Partner, Ropes & Gray. Follow His Lead: He was honored as a 2019 Trailblazer by the National Law Journal. Make His a Double: Dowden is a Double Eagle who worked his way through law school as a bartender at Alumni Association events.
---
The high-profile trial and conviction of Larry Nassar, the serial child molester and a former USA Gymnastics national team doctor and osteopathic physician at Michigan State University, shocked the nation. How could this predator have abused so many people and caused so much harm for so long? To find out, the United States Olympic Committee turned to Ropes & Gray partner James Dowden '00, a leader of the firm's independent investigations group, and his colleagues, to investigate and ultimately provide a more than 200-page report on what went wrong and how it could be prevented in the future.
"For the Nassar investigation, we spent ten months reviewing more than 1.3 million documents and conducted over 100 interviews," explains Dowden. "What was unique about our report was that it didn't just focus on who knew what and when, but we also had a large focus on cultural conditions and how they allowed it to happen."
Drilling into the details of complex cases is Dowden's forté. He looks back on his clerkship with Associate Justice Stephen Breyer of the US Supreme Court as a "transformative" experience. "As a clerk, the breadth of problem-solving skills you are required to have and the rigor by which your work is judged is unparalleled," Dowden explains.
From the court, Dowden went on to spend five years as an assistant US attorney in the economic crimes and public corruption units in the US Attorney's Office for the District of Massachusetts. "I always had an inclination for doing investigative work and working in the criminal justice system," he says. "I focused on public corruption and economic crime cases. It was fascinating work. I loved the fast-paced nature, and I loved trials and being in the courtroom and connecting with juries."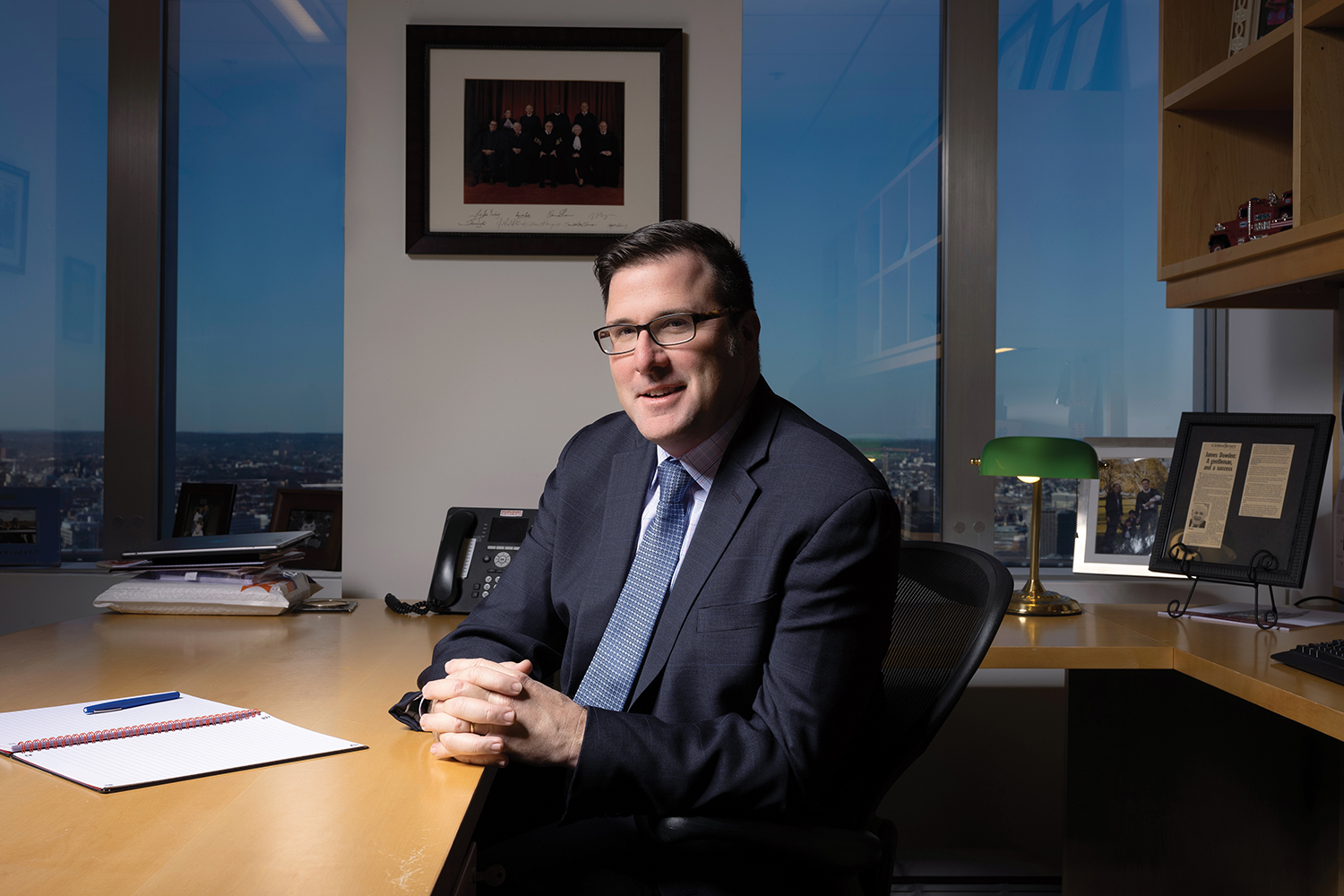 In 2012, Dowden rejoined Ropes & Gray, where he'd served as an associate prior to working for Breyer. In addition to leading the firm's independent investigations group, he heads the anti-corruption and international risk practice. Much of his time is spent on independent investigations into allegations of serious wrongdoing, including workplace harassment, corruption, and unlawful or unethical business practices.
"Part of my practice focuses on the Foreign Corrupt Practices Act, which prohibits US companies from bribing foreign officials even if the conduct occurs outside of the United States," he says. "It means I travel abroad a lot to conduct investigations for our clients. Our practice works with global companies putting programs in place to educate and prevent unethical conduct. We also focus on the tone at the top. How institutions set the tone makes a big difference on changing workplace culture."
Dowden also takes pleasure in sharing his experiences with BC Law students. Since 2003, he has taught a fall white-collar crime survey course. "Monday evenings are one of my favorite work times of the week," he says. "Teaching sparks so much enthusiasm in me, and it's a wonderful opportunity to listen to eager students who have such great questions and to be able to share how interesting a career in law can be."
When he's not working or teaching, Dowden can be found spending time with his wife, Sarah, and their four children.