There is something special about the women of the Boston College Law School Class of 1974. They, of course, think so, and that is the reason they organized themselves into a panel discussion during the Law School's 2021 Reunion Weekend in early November. By the time their storytelling hour and a half was over, the audience couldn't have agreed more.
Hosted by the BC Women's Law Center, the event featured a panel of eight classmates at the dais, as well as several others among the crowd, who shared cherished memories of the Law School—then housed in More Hall on BC's main campus—along with tales from their diverse and impressive careers and the lessons they learned along the way.
Even from a strictly numerical perspective, these women were important. The 1974 class represented a major shift in the presence of women at Boston College Law School. From 1965 to 1970 the number of women in each class ranged from 5 to 9 (3 percent to 9 percent). A slow increase began with the class of 1971, which included 17 women (10 percent), then rose to 22 in 1972 and 28 in 1973. In 1974 their number nearly doubled, to 44 women (18 percent). Since then, the count has consistently increased, as has the normality of women pursuing careers in areas such as law. As evidence of the slow and steady rise, women now comprise 54 percent of the Fall 2021 entering class at BC Law.
The Class of 1974 entered the law at a time when the field was dominated by men. Their group had to be self-selective and highly motivated to overcome the obstacles that existed simply because of being a woman. Many were raising families. Yet they not only succeeded, they pioneered, set trends, led, and innovated. They became law partners, judges, and public service advocates, corporate executives, policymakers, and more. Not all were present at the event; all have impressive resumes.
A sampling: Susan Brooks shaped a new housing agency. Marilyn Blumberg Cane made a name on Wall Street. Katherine Coolidge did land use planning at the Boulder City Attorney's office. Liz Cremens went from public defender to private practice lawyer to associate justice of the Massachusetts District Court. Lora Pepi rose to executive rank at Bank of America. Arlene Violet became the first female attorney general (Rhode Island) elected in the United States. Ruth-Arlene Howe was the first African American female to achieve tenure and the rank of full professor at BC Law. Kathy Galvin started in legal services in the Boston area, did a stint in philanthropy in New York, and was a supervisor in the federal San Francisco Asylum Office.
Part of what inspired the November 5 event was a reconnection effort 18 months ago by several of the women who decided to start getting together via Zoom. Janice Campbell, who began her career in legal services and later did economic development work, civil liberties projects, and mediation—was among that core group. She explained that what began as a foursome of friends meeting weekly to check in, grew to a 33-person network of 1974 alumni who continue to meet biweekly.
"They realized what a gift they were to each other as part of a very special community," said Interim Dean Diane Ring in her welcoming remarks to the panel, "and after speaking with the Women's Law Center, they realized this gift was something they could also share with the BC Law community in the form of sharing their stories to inspire law students and alumni of today."
The words "justice," "equality," and "resilience" came up often in the speakers' recollections. A common piece of advice was the importance of taking risks and advocating for oneself as a woman in the field of law. "As I look back on my professional career, I advise other people to take risks, because every time I took a risk, it turned out for the best," said Margaret Sofio, who started in then-nascent cable television and rose to the top of the industry.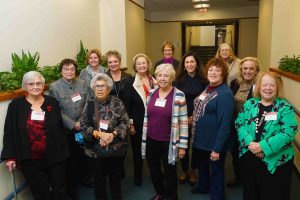 "You have to be willing to take risks throughout your career," agreed Lora Pepi, the banking executive. "Take the risk to do something different, and say, 'I can learn, I don't have to know 100 percent of it,' and you have to be your own advocate. No matter how hard you work—you may have others out there supporting you—but you have to be the one advocating for yourself."
A consistent theme was the importance of giving back and how success in the field has allowed many of them to do so. For example, Joan Lukey 74, whose trajectory as a trial attorney shattered several glass ceilings, discussed her modest upbringing with a father who was a soldier and a mother who was a teacher. She said she will never forget when her father told her, "I want you to remember that there's a lot that you can do good with the money that I believe you have the talent to earn."
Lukey added, "I will keep working as long as I can, not because my family and I need that any longer, but because the longer I can do it, the more I can give to the causes I care about. One of which is this law school."
Summarizing her feelings toward the event and her classmates, Regina Mandl, whose path led from legal services to a Fortune 500 corporation to a lengthy law firm career, said: "We've all gone our separate ways, yet here we are to celebrate 50 years of a shared experience. We were competitive, yes, but we were also supportive as we had more in common than not. Today, as I look back, I marvel at the strength of these women, and I am so grateful to be here with you all today."
Photo at top, from left: Arlene Violet, Kathy Galvin, and Regina Snow Mandl