Rita-Anne O'Neill '04 was a 2L summer associate at the New York offices of Sullivan & Cromwell LLP when she was plucked out of the orientation session to serve as the most junior member of a team working on a deal to acquire a Manhattan hotel for Goldman Sachs. O'Neill found M&A work "super-hard, round the clock, very fast-paced," but loved the tempo, the teamwork, and the thrill of a completed transaction. 
Twenty years on from that first adrenaline-fueled taste of dealmaking, O'Neill is a partner in Sullivan & Cromwell's Los Angeles office and co-head of the firm's Global Private Equity Group. She has twice been named a Top Woman Lawyer and noted as "an influential figure in the M&A field," by the Daily Journal. O'Neill was also featured among Mergers & Acquisitions Magazine's 2022 rollcall of Most Influential Women in Mid-Market M&A, successful dealmakers who advocate for diversity, equity, and inclusion. BC Law added its own accolade in 2021, when O'Neill received the William J. Kenealy, SJ, Alumna of the Year Award.
At the start of that pivotal summer internship at Sullivan & Cromwell, "I literally had no idea what M&A was," said O'Neill. But she had an advantage over her fellow summer associates that led to her being picked to work on the Goldman Sachs hotel deal. Between graduating from Wellesley College and entering law school, she had amassed eight years' experience managing resort condos and co-ops on Long Island, where she grew up, and earned a real estate broker's license.
Law school had always been on her radar, said O'Neill, and sensing that she had plateaued in her niche in real estate management, she challenged herself to take the LSAT. She set a target score above which she would apply to law school, and below which she would stick with real estate. She achieved precisely that score, applied to law schools, and with her now-husband Richard Gosman's encouragement, chose BC Law.
More experienced than many of her BC Law classmates—she turned thirty during her first year—O'Neill took a pragmatic view of her future. "I'd always thought I'd want to go into academia," she said, "but I needed to make money."
Immediately after graduating, O'Neill clerked for Judge Norman H. Stahl in the US Court of Appeals for the First Circuit. After her summer in Sullivan & Cromwell's New York office, she moved to the firm's Los Angeles office to start her associate career.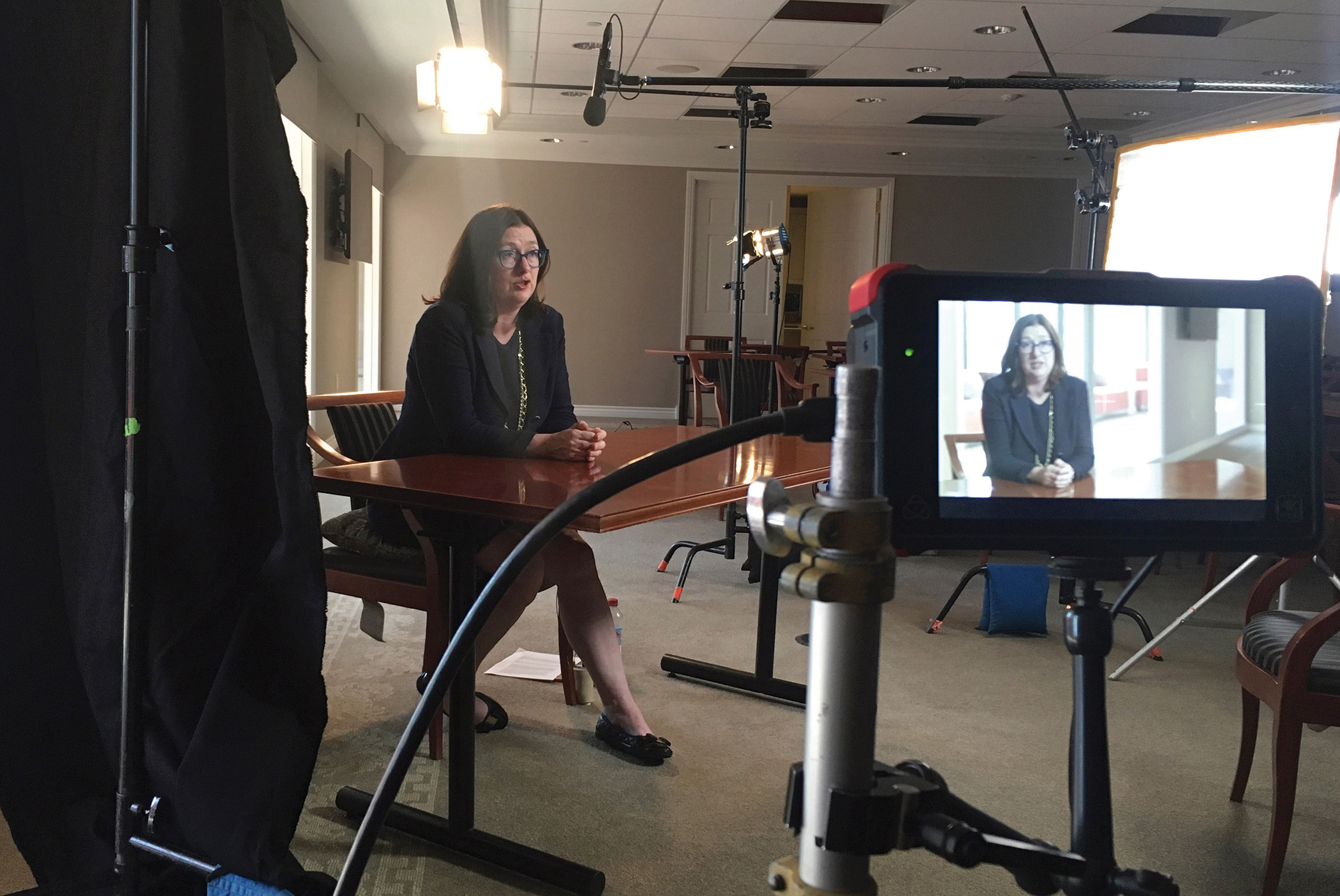 There, O'Neill forged a crucial professional relationship that not only advanced her own career, but also ultimately shaped her path as a role model for other women in the field. At the firm, Alison Ressler, whom O'Neill describes as "one of the top M&A lawyers in the world," selected her as a mentee. Working closely alongside Ressler—notable for being both the first non-New-York lawyer and first woman to be on the committee that runs the firm—on many deals, O'Neill said that she benefitted from a protective aura that shielded her from "a lot of the gender issues that are so pervasive in M&A."
Ressler takes great pride in O'Neill's success. "Rita is a wonderful person," she said in a phone call from her LA office, "smart, creative, beyond dedicated to the firm," always available to her clients and colleagues, and committed to helping other women succeed in the field. "She's become one of the leading women in M&A globally," Ressler added, citing O'Neill's position as co-chair of the Tulane Corporate Law Institute. Tulane, she explained, is "like the Davos of M&A," an annual gathering of the global elite.
As Ressler championed O'Neill, she in turn supported junior colleagues. Charlotte May, now a partner at the Washington-DC-based law firm Covington, first met O'Neill at an interview for an associate position at Sullivan & Cromwell. When May joined the firm in fall 2013, O'Neill had been promoted to partner, and May moved into her old office. O'Neill's new office door was always open, said May. Flanked by O'Neill's office on one side and Alison Ressler's on the other, she said, "it felt completely normal to be a woman in this space."
May and O'Neill bonded over their love of dogs. "I was working on a deal with Rita," said May, "and she sent me a document to review on the weekend when I was at a shelter trying to adopt a dog." Panicked, May texted: "I'll be home shortly. I'm at the shelter, I'm about to adopt a dog." O'Neill immediately replied that she'd handle the document herself. "You focus on the dog—that's more important," she told May.
"I'm a huge animal person," said O'Neill, who is mourning the recent death of one of her trio of elderly special needs dogs. Her passion for animal rights and animal rescue drives much of her pro bono work, along with a commitment to services for youth in foster care, and education.
"Rita busted through that glass ceiling pretty easily with her style, her collegiality, and her knowledge."

Robert Spadafora, of Philips, who first observed O'Neill's savvy during a complex corporate negotiation in 2014
O'Neill's clients span a dizzying range of industries, including consumer and retail, financial institutions, healthcare and life sciences, telecommunications, and transportation. She advises a mix of major corporate clients and private equity firms on some of the largest, highest-profile transactions globally. Her practice includes advising clients on mergers and acquisitions and securities offerings and providing general corporate advice on disclosure and governance. The deals she works on range from "small, bolt-on acquisitions" for private equity portfolio company clients to multi-billion dollar cross-border acquisitions of US public companies.
Her long-standing clients include Ontario Teachers' Pension Plan (OTPP), one of the world's largest pension plans; Ares Management, a leading global alternative investment manager; and Philips, the Dutch multinational conglomerate corporation known for innovative consumer products from lightbulbs to cutting-edge healthcare technology.
Among the many deals she has shepherded for Philips, O'Neill vividly remembers the company's acquisition of a San Diego-based medical device company, Volcano Corporation, in 2014, for $1.2 billion. "The Philips team always has great people," she said, and in acting for them in the healthcare arena, "you feel like you're doing good for the world." As part of due diligence, she found it fascinating to preview Volcano's innovative catheters for enabling ultrasound imaging and non-invasive treatment of the circulatory system.
The deal had significant strategic importance for Philips, said O'Neill. It marked the company's first large acquisition in the United States since 2007, and its rebranding as a global leader in healthcare technology. O'Neill was at Philips headquarters in Amsterdam, running a multi-day M&A boot camp with colleagues, while "the deal was going crazy," she said.
"So, we were running into a small breakout room, discussing strategy with key legal and business decision-makers at Philips, on how to deal with antitrust approvals and other issues that came up, then we'd go back and do the next boot camp session," she said. "The deal was structured as a tender offer," she explained, "so we were coordinating US securities filings—with US filing deadlines—and navigating messaging with the Philips communications team, all while responding to frantic inquiries from the other side's counsel."
Robert Spadafora, now head of Legal at Philips North America, first worked with O'Neill on that deal while he was based in Amsterdam. "We as a team leaned on her quite a bit because it was a while since we'd done a public deal," he said. Her range of experience and depth of market knowledge were invaluable in negotiations, he said. "She could say, we shouldn't go with that risk, or, it's OK to go with that because we've done it six times before."
Another hallmark, he said, was her ability to field a strong and diverse deal team. Spadafora was so struck by the effectiveness of her inclusive team building that he invited her to co-host a webinar with him on unconscious gender bias for Philips' legal teams worldwide. Of O'Neill's own success in a still male-dominated business environment, he said: "Rita busted through that glass ceiling pretty easily with her style, her collegiality, and her knowledge."
Tariq Rangwala, OTPP's director and senior managing counsel for investments, worked with O'Neill for the first time in 2020 on a strategic investment deal with Mitratech, a leading provider of legal and compliance software. As the external legal advisor on a complex and drawn-out negotiation and deal, said Rangwala, O'Neill more than lived up to the star billing she received from his colleagues. "She's always there for her client," he said, "always available and involved," and with all her accolades, he found her to be "very humble, and never trying to be the smartest person in the room, even though she probably is the smartest person in the room."
In the dozens of deals O'Neill has steered for Ares Management, said Eric Waxman, partner in the Ares Private Equity Group, O'Neill's standout qualities have always been her combination of technical skill and deep knowledge of all aspects of M&A with unshakeable common sense and a laser focus on the crucial issues in any situation. "She's a perfect lawyer and a terrific person, and I think very highly of her," he said.
"She's always there for her client, always available and involved…very humble, and never trying to be the smartest person in the room, even though she probably is the smartest person in the room."

Tariq Rangwala, of Ontario Teachers' Pension Plan, who worked with O'Neill on a deal with software company Mitratech
Years before, at BC Law, O'Neill recalled Professor Thomas Carey '65 instilling in students the idea that the legal profession functions like a medieval guild, "where you train and you learn a trade, but you also give back to the trade and train the next generation." "That idea really stuck with me," she said, and has driven her commitment to the American Bar Association (ABA), in which she has held multiple leadership positions. She currently serves as vice-chair of the ABA M&A Committee and co-chair of the ABA Acquisition of Public Companies Subcommittee.
O'Neill's first foray into ABA leadership was as vice-chair of a Women in M&A Task Force co-founded by Jennifer Muller, a managing director at investment bank Houlihan Lokey. At her first ABA meeting, O'Neill remembers being steered across the room to be introduced to Muller, one of the few other women present. The scarcity of women in the ABA M&A arena was a wake-up call. "It's the first time I really recognized there was a severe gender disparity, and I became passionate about trying to get more women into M&A," she said.
When Muller asked O'Neill to join her as vice-chair on the task force, "Rita was so enthusiastic and positive and jumped right in, in the way she amazingly does with everything," Muller recalled. The task force became a subcommittee to promote the recruiting, retention, and promotion of women lawyers in M&A, co-chaired by Muller and O'Neill. The pair became good friends while crossing the country to visit law schools, arranging panel presentations, receptions, and webinars, all aimed at priming the pipeline for women entering M&A.
"To really make change," said O'Neill, "you need women leaders in law firms." And to do that, she said, "you have to figure out how to drive more business to women," as status and promotions are directly tied to people's ability to bring in clients. In 2016 she and Muller co-founded Women in M&A, known as WiMA, to create networking groups for senior women dealmakers from banking, law, private equity, and business, first in New York, then in Chicago, for the specific purpose of generating business.
O'Neill sees networking as enriching as well as good for business development, a belief that informs the annual leadership retreats and the informal golfing and skiing trips she organizes for WiMA members. "Just being with women who do what you do makes you feel normal," she said, laughing, and because everyone is invested in their work, ideas for future business development or client referrals emerge organically.
Deeply loyal to the institutions that have shaped her career, O'Neill is committed to supporting the BC Law community. "Rita-Anne has been actively engaged in almost every facet of the Law School," Interim Dean Diane Ring said last December, noting her many guest speaker appearances, participation in hundreds of on-campus interviews, mentoring, and energetic efforts to help students find jobs and internships. As a new member of the Dean's Advisory Board, O'Neill led the charge to raise over $160,000 for summer internships for one of the largest classes in BC Law's history, said Ring, enabling the Public Interest Law Foundation to fund 100 percent of eligible students for the first time in recent memory.
"Anything I can do to perpetuate this community for students to come, is something I'd love to do," O'Neill said.